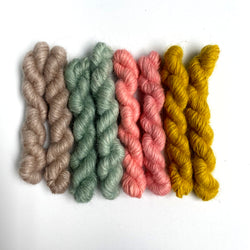 The Endery X Pichinku | Deadstock Baby Alpaca Mending Kit Refill
Add a touch of nature to your mends with the finest baby alpaca in hues inspired by golden hour landscapes. Baby alpaca is a cruelty-free wool that comes from the softest part of the adult alpaca. It's one of the softest fibers out there!
These premium leftovers were sourced from Pichinku, a social enterprise that produces all-natural yarn, botanically dyed in small batches by the skilled hands of women artisans in Cusco, Peru. 
This Deadstock Baby Alpaca Mending Kit Refill includes:
8 mini hanks of 100% deadstock baby alpaca in 4 naturally dyed hues.

A postcard from us, to you.
Need mending tools, too? Start with the Deadstock Baby Alpaca Mending Kit