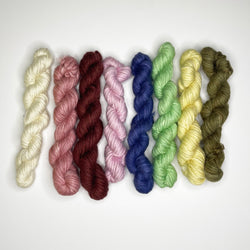 Mending Kit Refill - Pima Cotton
This mending refill includes 8 mini-skeins of premium deadstock pima cotton. Colors may vary due to leftovers available.
These high-quality and durable fibers ensure long-lasting clothing repairs and customizations. Sourced from leftovers from our collections in our Lima workshops, each stitch represents the infinite possibilities of creating with waste. See where the color takes you.
Need mending tools, too? Start with our Deadstock Mending Kit.